Executive Committee
Shane Runquist, Mexico 2008-2010, President
Shane served as a GIS and Knowledge Management Specialist in the Mexican government agency responsible for natural resource management in the states of Querétaro and Puebla. He made process improvements in forestry data management, provided training in GIS and GPS usage, and performed satellite imagery analysis to detect forest loss over time. Prior to his Peace Corps service, Shane worked as an embedded software engineer and manager at Garmin International. Following his service, moved to Boston to work as a software engineer at the MITRE Corporation, primarily in mobile software security, and now works as a software developer for DataStax, Inc. Shane joined the board in 2014, and served as Vice President in 2017 & 2018.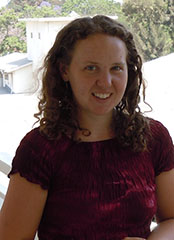 Elise Simons, Zambia 2010-2013, Vice President
Elise served as an Agriculture and Environment Volunteer in Zambia. She taught agroforestry, organic gardening, conservation farming, and tree planting to farmers in her village in order to promote better health and nutrition as well as environmental sustainability. She also took on secondary projects in appropriate technology innovation training and HIV/AIDS prevention education. Elise extended for a third year as PCVL, leading workshops and providing volunteer support. Upon returning to Boston, Elise started working at the Product Stewardship Institute as a waste management policy and programs associate. She is currently earning her graduate degree in urban and environmental planning from Tufts University.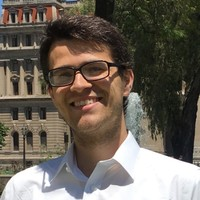 Matt Walsh, Dominican Republic, 2014-2016, Treasurer
Matthew Walsh served as a Community Economic Development volunteer in the Dominican Republic between March 2014 and May 2016. As a Peace Corps Volunteer Matthew worked with a women's chocolate-making cooperative and an association of cocoa farmers, and he helped coordinate an annual entrepreneurship conference. Many of Matthew's fondest memories of Peace Corps service involve time spent with other volunteers, so he's excited to join the BARPCV board to get to know the Peace Corps community in the area.
Erin Meade, China 2015-2017, Secretary
Erin served as an Education volunteer at Southwest University in Chongqing, China. For her primary project, she taught speaking, writing, and pronunciation classes to freshman and sophomore students. She was responsible for all aspects of planning, developing, and implementing courses. For her secondary project, Erin took the lead role in organizing a Write On! Competition at her university. Prior to Peace Corps, she volunteered with AmeriCorps and taught English in Japan with the JET Program. Erin moved to Boston after her Peace Corps service and is currently working for the federal government. Erin is excited to join the BARPCV Board.
Program Chairs
Lynn Arsenault, Vanuatu 2012-2014, Events Chair
Lynn served as an English Literacy Trainer and Teacher in the small island nation of Vanuatu in the South Pacific from 2012 to 2014. In addition to teaching and teacher-training, some of Lynn's secondary projects included helping her village acquire solar energy, networking with international NGOs to obtain special needs equipment for local children, conducting youth leadership workshop, painting two world map mural projects, and the helping the island develop a natural disaster committee on the island to mitigate destruction during cyclones, earthquakes, tsunamis, or other natural disasters. Since returning, Lynn spent a few years teaching in both Boston and Houston, and pursued an MBA in Nonprofit in Nonprofit Leadership. Now, Lynn is the Communications Manager at the United Nations Association of Greater Boston.
Peter Hulbert, Dominican Republic 2012-2014, Sports and Recreation Chair
Peter served as a Youth, Family, and Community Development volunteer in Batey Santa Maria, a sugarcane cutting community in the Dominican Republic from 2012-2014. He worked with the youth of the community through gender empowerment groups and HIV/AIDS education. HIs secondary projects included co-volunteer organized traveling soccer league with 7 other communities in the region, and the construction of a community basketball court. After service, Peter received his Master's in International Development from The Heller School at Brandeis University. Currently Peter is the Program Manager for Boston Area Partnerships at Inversant, a college saving and access non-profit which serves Boston and the North Shore communities. Peter Joined the board in the fall of 2018.
th and iffany Jaimes, St. Kitts & Nevis 2009-2011, Membership Chair
Tiffany served as a Youth Development Volunteer in St. Kitts & Nevis, a beautiful dual island Federation in the Eastern Caribbean, from 2009-2011. She worked with local primary schools in her host village of St. Pauls and neighboring Newton Ground, to develop After School Leadership programs for girls in grades 4-6. Additionally she taught an Arts, Crafts, and Culture class at Charles E. Mills Secondary School. So enamored with her host country islands, Tiffany stayed an addition 3 years beyond Peace Corps Service, working in the private sector as the Direct of the Lyn Jeffers School in Nevis. Following her time in the Caribbean, Tiffany relocated to Central America. She split her time teaching ESL between Costa Rica and Honduras, until she made the swift decision to join JetBlue Airways as a flight attendant. Stationed in Boston since April 2015, she is happy to maintain her travel lifestyle while making Boston her new home base.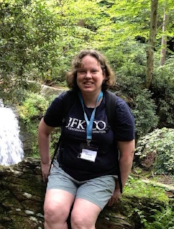 Rebecca Madden-Sturges, Georgia 2005-2007, Photos Chair
Rebecca served as a Nonprofit Developer, assigned to both a youth center and a nonprofit named Spektri, in the town of Sagarejo, Khaheti, Georgia. She wrote a project proposal to reconstruct and re-equip the Regional Hospital's Gynecological Department and received funding from the U.S. Department of State Small Reconstruction Projects and Counterpart International.  She collaborated with her counterpart to expand Spektri into a Women's Information Center using funding from the Peace Corps Small Project's Assistance Program, dispersing information on women's health and women in conflict zones. She taught English classes to school age children at the youth center and to adults during her first year and received funding from the Peace Corps Partnership Program for a small computer lab at this center. Prior to the Peace Corps, she received a B.A. from the University of Michigan. She presently works in medical imaging at PAREXEL.
Jannah Muhammad, Benin 2013-2016, Community Grants Chair
Jannah served as a Rural Community Health Volunteer in Bassila. For her first two years her primary projects were working with a local NGO and the commune's largest health center. She took on the secondary projects of an English club, mosquito net distribution, community moringa education lessons, installing handwashing stations at 3 primary schools, and co-facilitating the department's annual girls camp. She then extended her service for a third year and moved to Djougou where she worked for Population Services International (PSI) as a Technical Assistant of their Amour Vie Project. Upon Returning from Benin, Jannah worked for the Gaining Independence for Tomorrow Program (GIFT) program at Roxbury Youthworks, Inc. where she mentored young girls at-risk for commercial sexual exploitation. She is currently a full-time graduate student at Boston College and is expecting to graduate in spring 2020 with her Master of Social Work degree with a concentration in global practice. She joined the board in January 2019.
Kevin O'Brien, Mozambique 2015-2018, Community Service Chair
Kevin served as a Community Health Volunteer in Mozambique. He partnered with colleagues at the hospital and health workers in order to advance the community's knowledge and adoption of healthy lifestyles, especially as related to HIV, malaria, and nutrition. Kevin was active in secondary projects, including helping to implement a girls empowerment group, community radio, English-learning through theater, and a community library project. He extended for a third year as a Peace Corps Volunteer Leader for training and volunteer support and is currently pursuing his Master's of Social Work at Boston College.
Eric J. Roberts, Paraguay 2005-2008, Fundraising Chair
Eric served as an Agroforestry Extension volunteer in Ka'apukumi-Franco Isla, Paraguay from 2005-2008. While in Paraguay, Eric worked with community members to integrate agroforestry and natural resources management techniques into traditional agriculture plots and with school instructors and national and international non-profit organizations to teach conservation biology. He also co-hosted a weekly radio show called Mba'e La Porte Norte, assisted in the development of an ecotourism project, and drank a lot of tereré with Paraguayans in the cool shade of mango trees. Based in Cambridge, MA since 2012, he is an associate at the Consensus Building Institute where he helps groups of government, business, nonprofit and community representatives to collaborate more effectively while developing solutions to social and environmental policy dilemmas at the local, regional, national, and global scales. Eric joined the board in November 2014.
Gladys Muñoz Romero, Guatemala 2016-2018, Communications Chair
Gladys served as a Healthy Schools Volunteer in the Western Highlands of Guatemala. For her primary project, she worked in collaboration with the Ministry of Education and Ministry of Public Health to support the implementation of the National Healthy Schools Strategy. She worked improving the basic health and hygiene of primary school students and developed health-promotion capacities of members of the educational community. For her secondary project, Gladys collaborated with a nongovernmental organization, Water For People, creating a greywater recycling project for school gardens. Gladys relocated to Boston to support the Latinx communities and is excited to be joining the BARPCV Board.
Tamene Tedla, Ethiopia 2016-2018, Third Goal / Speakers Bureau Chair
Tamene shares global project experience and inspires Boston area college students to join Peace Corps. His passion for international development began when he was a student at Worcester Polytechnic Institute (WPI). After his interactive study abroad experience in Morocco and  work for the WPI-Guatemala chapter of Engineers Without Borders, he realized that the world and development problems were complicated by institutional challenges. He learned that these could only be solved through careful observation of people and culture, and context-sensitive thinking.  This led him to serve with the Peace Corps as a Community Organizer and Health Promoter. His primary focus was to deliver health education and promote life skills lessons for gender empowerment and youth development. He really enjoyed his work and is very proud that he was able to design multiple emergency need projects and receive a Peace Corps small grant in order to launch a community-based ART adherence counseling center for HIV+ people and open an Inclusive Youth Center for People with Disabilities.
Currently Recruiting
BARPCV is currently recruiting for positions on the board. To nominate yourself or a fellow RPCV to one of these positions or to learn more, please contact info@barpcv.org.