In Celebration of the Anniversary of founding of the Peace Corps, please join us at the John F. Kennedy Presidential Library and Museum on Sunday, March 1st for a free showing of the documentary film "A Towering Task: The Story of the Peace Corps." Watch the trailer at: https://vimeo.com/363392905.
This event is free to the public, co-hosted by the Boston Area Peace Corps Volunteers (BARPCV), the National Peace Corps Association (NPCA), and the John F. Kennedy Presidential Library and Museum. Please reserve a ticket above in order to attend.
We are also raising funds to offset the costs of the film showing. If you are able to make a donation you can do so here.
Schedule of events:
1:00 pm - Free admission to JFK Library and Museum, including Oral History Project
2:00 pm - A Towering Task Documentary Showing
3:30 pm - Q&A panel session hosted by Alan Price, JFK Museum Director, featuring:
Alana de Joseph, Film Director and RPCV Malawi

Glenn Blumhorst NPCA President and RPCV Guatemala

Mark Gearan, Former Peace Corps Director
A Towering Task: The Story of the Peace Corps
is a feature documentary covering the almost 60-year history of the agency. From the Peace Corps' founding under John F. Kennedy, through tough times during the Vietnam War and a surprising revival during the Reagan administration, to today's Peace Corps Volunteers serving at the forefront of some of the most pressing themes facing the global community, A Towering Task takes viewers on a journey of what it means to be a global citizen. Historians, journalists, former staff and volunteers, and host country nationals come together to tell a story of many voices, a story about the enormous challenge of building peace. Notable interviewees include President Jimmy Carter, President Ellen Johnson Sirleaf, Representatives Donna Shalala, Joe Kennedy, and John Garamendi, Maria Shriver, Tim Shriver, and Teddy Shriver, as well as Peace Corps founders Harris Wofford and Bill Josephson. Following the premiere, national and international distribution is planned through community screenings, film festivals, college and university programming, public television broadcast, and eventually streaming.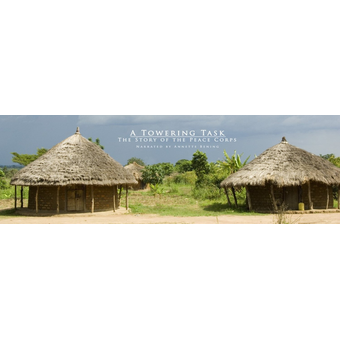 JFK Presidential Library and Museum, Columbia Point, Boston, MA 02125, USA