The May Dinner celebrates President Kennedy's legacy and raises crucial unrestricted funds for the Kennedy Library's public programing. At this year's gala, Ambassador Caroline Kennedy will present the John F. Kennedy Profile in Courage Award to U.S. Speaker of the House Nancy Pelosi. Learn more about the Profile in Courage Award and hear Speaker Pelosi discuss courage here.
Organizations taking part in this year's Honor Guard will be asked to send 8 young individuals to welcome guests at the May Dinner. Participants are encouraged to wear Peace Corps attire, as members of the press photograph arrivals. Volunteers will be asked to arrive by 4:15PM and will greet guests between 4:30PM and 7:00PM. Participants are then welcome to stay for a live stream of the ceremony and to eat dinner. The event concludes at approximately 9:15PM but volunteers are free to leave after 7:00PM if they do not wish to stay for dinner.
Limited to the first 6 volunteers who respond!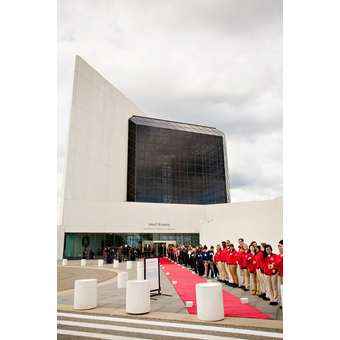 Columbia Point, Boston, MA 02125, USA