One of BARPCV's favorite events — a weekend away in Maine, camping and canoeing on the Saco River!
Plan to arrive Friday, September 2nd, canoe on Saturday, and depart on Sunday, September 4th. Please bring your own camping equipment.

Staff will be at the campsite until 10pm on Friday for check-ins. While we have reserved the camping site for 2 nights, you will have to pay a campsite fee on arrival - $20 per night per adult. Campground is approximately 2.5 hours from Boston by car.

Please RSVP on our website. Note that you will have to call the campground and reserve your canoe ($30 deposit), we will not do it for you. The full canoe fee is $62 for the day (double canoe). When you reserve your canoe, tell the campground that John Moriarty made the campsite reservation.

Campground location and contact information:

River Run Canoe & Campground
191 Denmark Road
Brownfield, ME 04010
Tel: (207) 452-2500
Email: The Parkers@fairpoint.net

Please contact John at sports@barpcv.org or (603) 505-7498 with any questions or to collaborate on carpooling, gear sharing, meal planning, and other logistics.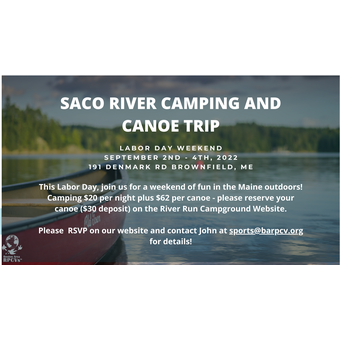 191 Denmark Rd, Brownfield, ME 04010, USA