From NPCA By Meredith Miller Vostrejs
As Peace Corps plans the return of Volunteers to host countries overseas 'post-pandemic', it is exciting to see greater visibility of climate change integrated into the Agency's future plans and budgets, alongside COVID-19 response efforts.
In the Peace Corps' Fiscal Year (FY) 2022 Budget Justification to Congress, climate change is referenced as a key initiative. The Executive Summary states, "FY 2022 funds will allow the agency to return to operations abroad and to continue to recruit, train and support Volunteers and Trainees. With an added emphasis on assisting host communities in combating the COVID-19 pandemic and addressing the impacts of climate change, the Peace Corps and its Volunteers know that their return will be very important to the countries in which they serve, and ultimately, to the United States."
Examples of climate-related work that Peace Corps Volunteers have been doing are included in the Budget Justification's summary of global operations. For the Africa region it states, " Peace Corps Volunteers ensure the United States is committed to empowering smallholder producers—especially women—improving nutrition, and strengthening communities and economies through agricultural development and resiliency to climate-related shocks." Climate-smart agriculture techniques and practices, such as more efficient water capture and harvesting, are mentioned in the Agriculture section. The Environment Section states, "Volunteers in the Environment sector collaborate with host country partners to help protect the environment and help communities become more resilient to environmental shocks and stresses," and offers examples of Volunteers' environment work such as combating soil erosion and climate change by planting gardens and establishing tree nurseries with local counterparts.
Climate change was also mentioned during an interview Peace Corps Acting Director Carol Spahn had with NPCA President Glenn Blumhorst. In the interview, hosted by the Commonwealth Club on December 2, 2021, Carol Spahn said, "....As we have done with COVID-19, we believe there is an opportunity for all volunteers to contribute to climate change [work] through secondary projects, so even if you are a teacher you can be teaching about climate change as you are teaching English or science or any number of topics. This is an area that we will be expanding as we get volunteers back out."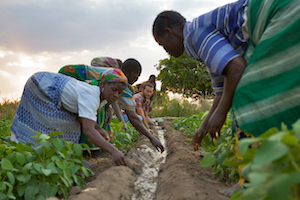 Peace Corps Voluntreer with community in Malawi (photo source Peace Corps)
Carol Spahn used Malawi as an example of how Peace Corps Volunteers (PCVs) can integrate climate change into their work. In the Commonwealth Club interview, Carol Spahn said, "I was really honored in Malawi to have a robust climate change program there in a country that was 80% reliant on subsistence agriculture, where 8% of the country had access to electricity and many people were burning firewood for fuel for cooking. There was so much work to do because deforestation there was such a major issue. I saw some volunteers who really, really leveraged their communities. One volunteer, [in] this community alone planted over 40,000 trees. This is not just about planting trees. There's so much more that climate change brings. In that country in particular I heard someone who had been with USAID 20 years earlier, and they came back with USAID and said, "What's different?" They said, "As we flew over, there weren't any trees. The tree cover was just gone." It was so striking in a period of just 20 years. There is not time to waste right now and the Peace Corps will be stepping up as we get back out...."
In December Peace Corps hosted the event, "It's Not Just an Environmental Thing: RPCVs Tackling Climate Change Across Sectors." The event highlighted three individuals who have become thought leaders and influencers in various fields throughout the US and across the world. They share how their Peace Corps service informed and influenced their career choices and how the knowledge, skills, and abilities they gained through service have helped them make a positive impact in their fields and in their home communities. A recording of this Peace Corps Thought Leader Series event held in December 2021 is available online here.
NPCA President & CEO Glenn Blumhorst and Advocacy Director Jonathan Pearson worked with the past and current administration of the Peace Corps agency and interested parties in Congress and the Executive Branch to generate a commitment to making climate change a higher priority for the Peace Corps.
Climate change was cited as the number one priority of RPCVs in NPCA's Town Hall meetings in 2020. In response, RPCV4EA has received NPCA staff support to strengthen its work. RPCV4EA welcomes opportunities to collaborate with PCVs and RPCVs engaged in climate and environment work. If you have climate-related stories or events to share with the RPCV4EA community please email comms@rpcv4ea.org.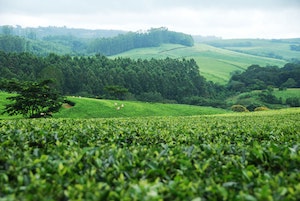 Malawi (photo source Unspash)
---